Friday Interview #3: Jörn Nettingsmeier
Hi, and welcome to the third edition of the Friday Interview! This week, we're joined by a freelance audio engineer specialized in ambisonics, that has been around the Linux audio world for a long long time. I'm very happy to introduce the third participant of this series, interviewee #3: nettings! Lets get started!
Introducing Jörn Nettingsmeier
Jörn Nettingsmeier, aka nettings, is a musician-gone-audio-engineer born and raised in Germany.
Currently living in Essen, he's working as a freelancing audio engineer, and also does research on Ambisonics.
He first got into Linux through a few summer courses of his university back in the day, and has been using it exclusively ever since. When he doesn't do very complex audio stuff, he loves to go hiking in new places.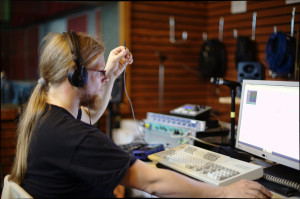 Jörn Nettingsmeier, aka nettings, how he usually looks at work!
Hi nettings! Thank you very much for doing this interview. What's your real name and where do you live?
My name is Jörn Nettingsmeier.
I'm from Germany, born pretty much in the middle of it (halfway between Dortmund and Hannover), and I've lived in Essen, in the former industrial area "Ruhrgebiet" for the last 15 years - got stuck there after studying music at Folkwang Hochschule in Essen and computer sciences at Universität Duisburg.
What do you do for a living?
My main source of income is event engineering, mostly live sound, sound design, with a bit of lighting design and video jobs thrown in for good measure. I'm freelance, so I can pretty much do what I'm most interested in, as long as the rent is paid. Sometimes it's simple tech jobs, front-of-house sound, some studio and live recording jobs. Plus a few gigs per year as technical supervisor, for example for the VDT International Convention 2012 ("Tonmeistertagung") in Cologne.
On the side, I build studio and theater tech infrastructure. During the last year, I upgraded and converted an 80's tape-based pop studio into an ADR, movie sync, and radio drama facility, planned and built from scratch a small studio for a municipal music school in my hometown, and upgraded the mixing desk, and signal distribution in a theater from analog to digital snake, with new, custom-built analog plugboxes all over the place.
Finally, I dabble in Ambisonics research (on the "applied science" side of things). I've had the chance to make a number of pretty exciting higher-order recordings and to mix and play my stuff on quite a few different loudspeaker systems such as the IEM Cube, the MUMUTH Graz, the SPIRAL at CeReNeM Huddersfield, and the fantastic Listening Room at CCRMA, plus a few temporary ones I built for conferences and concerts. This has been a fantastic learning experience, which would not have been at all possible without the Linux software ecosystem.
Ambisonics

A screenshot of an Ambisonics Ardour session by nettings. Note that almost every fader has active automation. Well played nettings, well played.
For anyone who doesn't know, could you shortly describe what Ambisonics is, and a little about how working with it is different from working with regular mono or stereo?
Ambisonics is a surround sound technique that is more scalable than channel-based systems such as 5.1 and friends, and it includes height information if you need it.
When mixing in Ambi, you don't think of what goes to any particular speaker, but rather where you want the sound to be coming from (in terms of horizontal and elevation angle). It's the speaker decoder which decides what speakers will be reproducing the sound for best effect. The big advantage is that your mix is independent of any particular speaker layout, and you can easily fold down a complex 3D mix to simpler systems, even down to 5.1 or stereo (or mono, if you must), without having to re-mix everything.
I like Ambisonics because it is conceptually very elegant, I can make it sound good, and it's very much in keeping with the open source spirit - having been the underdog for 30 years, all relevant patents are expired, all of the important research is carried out in the open, and open source tools are readily available.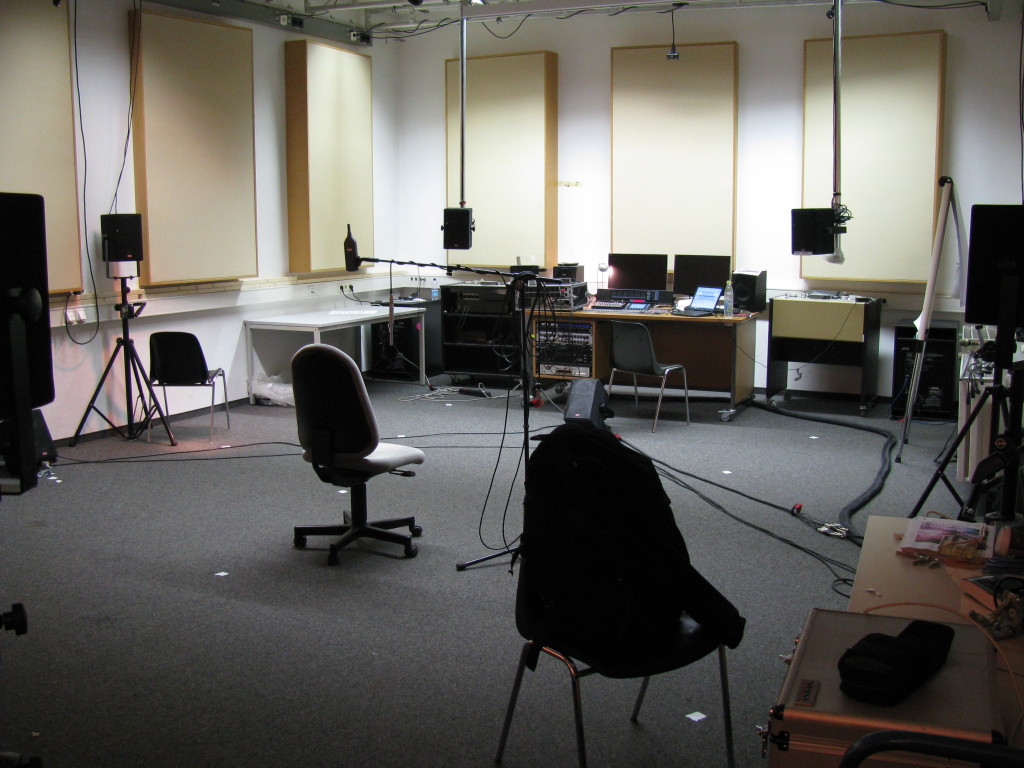 Jörn: A temporary 4-8-4 Ambisonic rig in the Klanglabor at Kunsthochschule für Medien, Köln (the location of LAC 2008). 16 Klein&Hummel O-108TV and four Genelec 15" subs.
What's your main interest in Linux audio?
I've been using Linux exclusively since 1998. My original interest was to run the audio software I had learned about in summer courses at the electronic studio of my university, the ICEM. Stuff like snd, and Csound, which ran on the SGI machines they had back then, and I was told Linux could run most of those programs as well.
At one point, I gathered all my courage and wrote an email to a guy who had a pretty much complete overview of all the available audio software for Linux on his website, a certain Mr. Dave Philips. I was amazed at the warm welcome and helpful advice I got, and the first thing he did was tell me to subscribe to the LAD list. The rest has been a very productive history.
"The culture of openness and sharing of knowledge has shaped the way I think about audio systems in general: I've developed a strong dislike for closed, single-purpose, "productized" gear."
These days, I use Linux mostly for editing and mixing. I've been an Ardour subscriber for several years, and I've used it since version oh-point-something, for live recordings, post production, and sound design jobs. I'm also heavily depending on all of Fons Adriaensen's excellent tools for Ambisonic production, and his measurement tools are invaluable to optimize PA systems and to validate my studio work.
The culture of openness and sharing of knowledge has shaped the way I think about audio systems in general: I've developed a strong dislike for closed, single-purpose, "productized" gear. The same goes for marketing babble: I try to avoid shows like Musikmesse Frankfurt because much of the stuff that vendors secrete there is an insult to anyone's intelligence. It makes me sad to see how kids get ripped off for stuff like models of ancient Abbey Road mixers. Why would I want a plugin that exudes hot air from its fader slits and has 70dB of SNR on a good day? Does that make me the next George Martin?
We can learn a lot about user experience from commercial offerings, but I'll gladly trade some awkwardness for less BS, any day.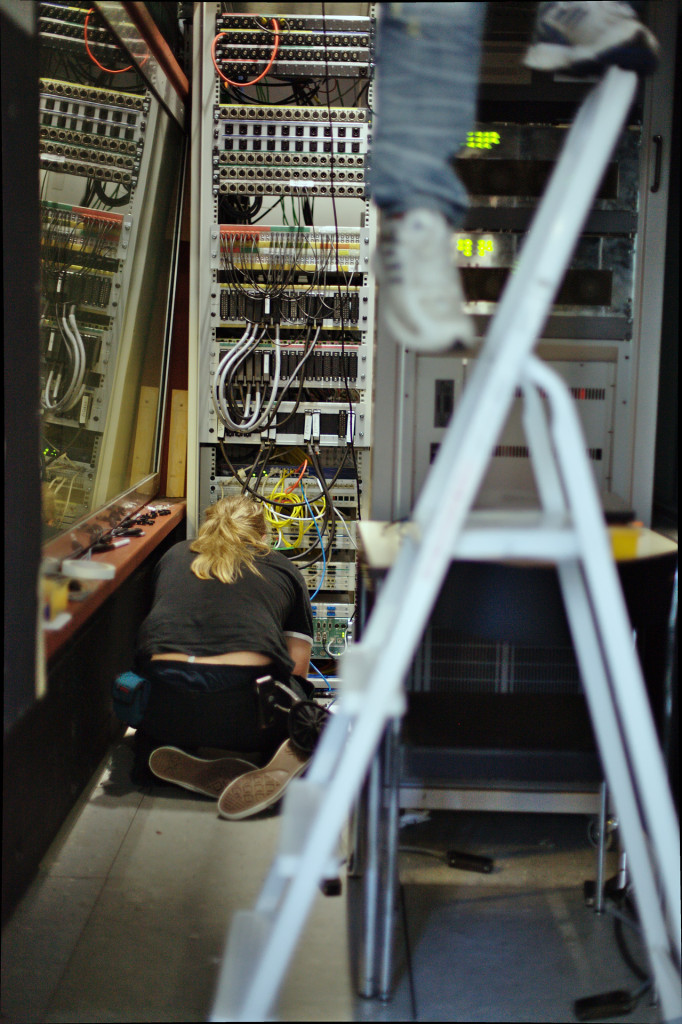 How it sometimes looks at work for nettings. Picture taken by Florian Faber during a test recording at ICSA 2011.
Outside of Linux audio, musical background, and the future
What do you enjoy doing outside of the Linux audio world?
I love hiking, my girlfriend and me usually go for extended tours at least once a year. We've done a number of 5-day to 10-day tours in Iceland, and recently we've discovered Scotland as an amazing hiking territory.
Sounds great! As a Swede, I can warmly recommend the northern of Sweden. Great nature, and some amazing scenery. Anyway, I'm digressing...
What's your musical background? What music do you like, and do you play any instruments?
I studied music for 9 semesters, majoring in piano (at which I have sucked and will always suck) and jazz bass (which I love, but I'm totally out of shape at the moment). Over the years, I've drifted away from being a musician myself to becoming, to quote a famous sound engineer, a "midwife to music". Not that I regret it - I think I'm better at engineeering than I was at playing.
My main interests are Jazz or improvised music in general, and what I've seen called "contemporary classical" aka new music. With the latter, I have a preference for instrumental works over electronic, but I'm pretty open in general.
What's in the future for you, do you have any projects you're currently working on, or anything you'd eventually want to get around to doing with Linux audio?
At the moment, I'm preparing for another 3D live recording of contemporary instrumental music at Philharmonie Essen. I'm currently at the stage of trying to make sense of the scores, in order to be able to work out a microphone plan. Next week, I'll be taking two room impulse responses, one here in Essen and the other near Basel, to be used for auralisation and convolution reverb.
In the future, I would love to suck less at programming, to be able to scratch more of my many itches myself. There's a couple low-hanging fruit in the Ambisonic workflow I want to tackle, but I never seem to be able to find enough time in a row to really dig in...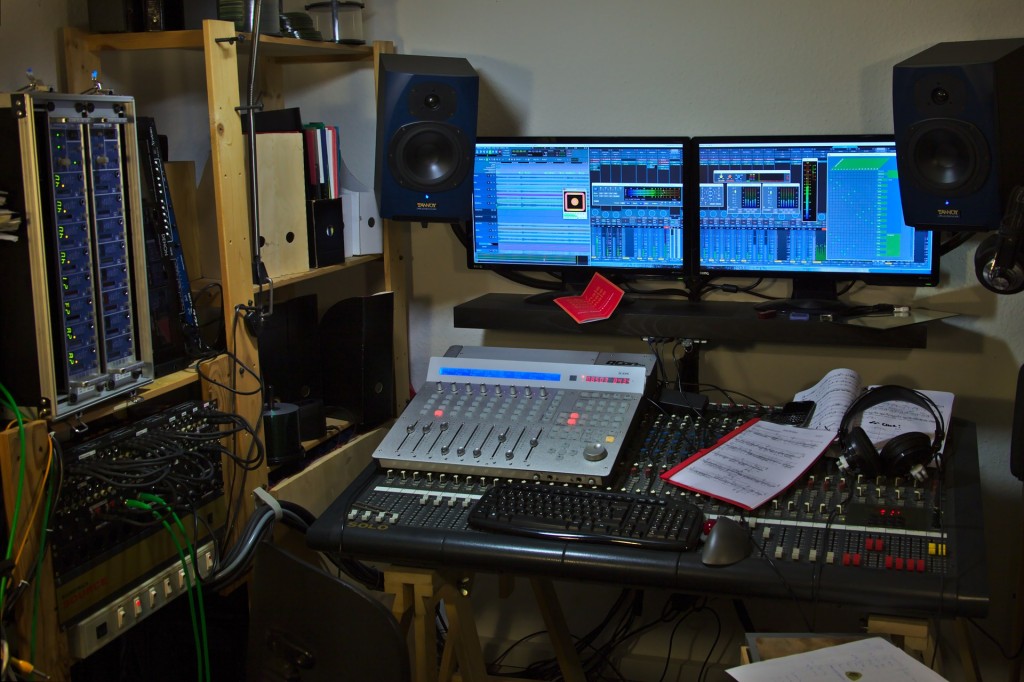 Where nettings does his work. I also want a mixer table as a table.
Final questions
Do you feel that anything is lacking in Linux Audio today? What would you like to see more of?
I think we are doing great! I would like to see more contributors to existing projects as opposed to people writing yet another incarnation of something which already exists. But I know that that's not the way it works, and on the upside, it's good to see cross-pollination and mutual inspiration between different projects that approach the same goal in different ways.
The Ardour subscription model suits me very well - I don't have to constantly remember paying, and it can contribute to a baseline income that developers can rely on.
Weird as it may sound, I would like to see more ways to give financial support to projects. I'm lucky enough to actually earn part of my income by using free software, and I'd like more and easier (and ideally tax-deductible) ways to give something back to developers. The Ardour subscription model suits me very well - I don't have to constantly remember paying, and it can contribute to a baseline income that developers can rely on.
The problem with that kind of approach is it works best for the poster guys of Linux Audio - high-profile applications with a huge user base. But at the same time, it would be very useful to get some reward back to less glamourous but important infrastructure projects such as JACK or LV2...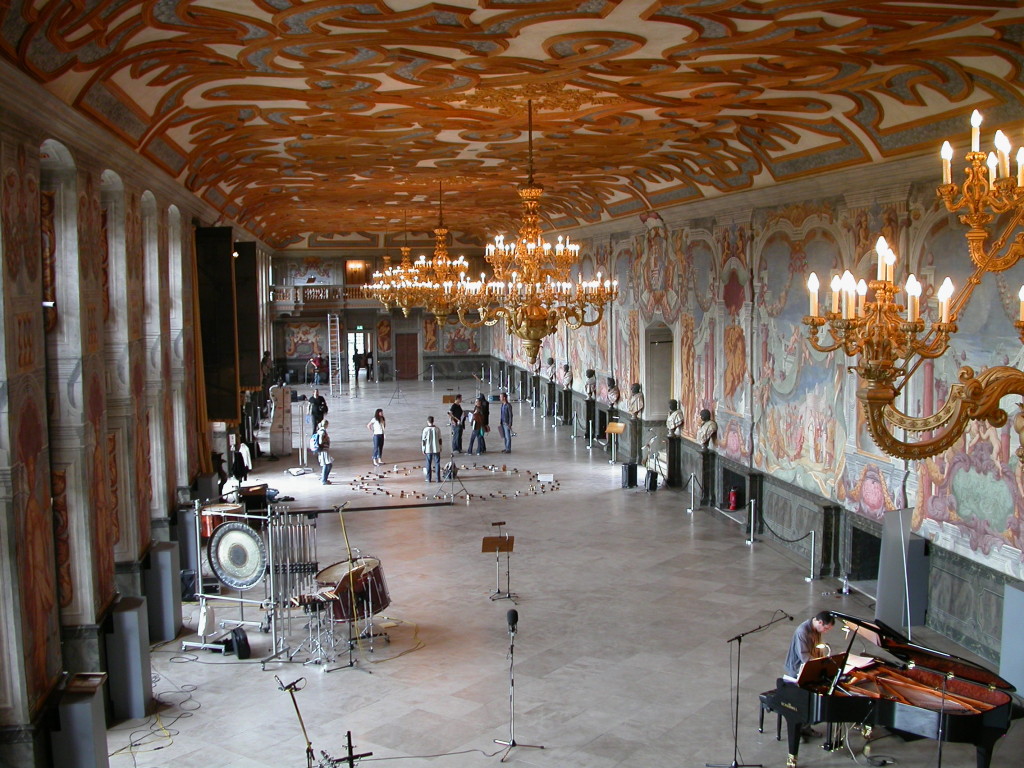 Jörn: Recording Chroma XII by Rebecca Saunders with ensemble musikFabrik at Galerie Hannover-Herrenhausen, mixed in third-order with-height Ambisonics.
Do you have any favorite free and open source plugin you're using currently?
Not really. Plugins are not a source of inspiration to me. I'm boring, don't often sculpt sound in radical ways, mostly use them to fix things I screwed up during recording. My dream plugin has a functional GUI, is transparent when all knobs are at neutral, has all core parameters smoothed for easy automation, does not ever get unstable, reduce effective dynamic range, raise the noise floor, or add distortion, and IT SURE AS FSCK DOES NOT HAVE RACK EARS OR ANIMATED VU METERS.
Is there anything you would like to add to the interview?
It feels like I added way to much to this interview already :)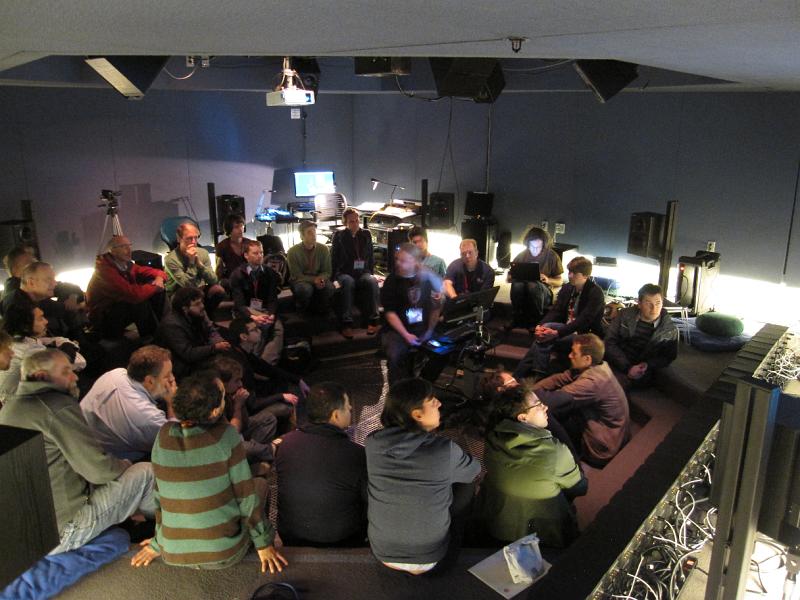 Jörn: A workshop in the Listening Room at CCRMA during LAC 2012. Full sphere 1-6-8-6-1 for 3rd-order Ambisonics.
Can people find your work somewhere? And how can people get a hold of you the easiest way?
my papers and project reports usually get dumped to http://stackingdwarves.net. sorry for the web design, my content management system is still mod_autoindex, and it will be for some time :-D
Okay, thank you very much for your interest and time!
That was Jörn Nettingsmeier (aka nettings). Thanks to Jörn for participating, and thank you for reading!